Howard Phillips "H. P." Lovecraft

            (August 20, 1890 – March 15, 1937)

was an American author of horror, fantasy, and science fiction, especially the subgenre known as weird fiction.   Lovecraft's guiding literary principle was what he termed "cosmicism" or "cosmic horror", the idea that life is incomprehensible to human minds and that the universe is fund-amentally alien. Those who genuinely reason, like his protagonists, gamble with sanity. As early as the 1940s, Lovecraft had developed a cult following for his Cthulhu Mythos, a series of loosely inter-connected fiction featuring a pantheon of humanity-nullifying entities, as well as the Necronomicon, a fictional grimoire of magical rites and forbidden lore. His works were deeply pessimistic and cynical, challenging the values of the Enlightenment, Romanticism, and Christian humanism. Lovecraft's protagonists usually achieve the mirror-opposite of traditional gnosis and mysticism by momentarily glimpsing the horror of ultimate reality and the abyss.

Although Lovecraft's readership was limited during his life, his reputation has grown over the decades, and he is now regarded as one of the most influential horror writers of the 20th century. According to Joyce Carol Oates, Lovecraft, as with Edgar Allan Poe in the 19th century,has exerted "an incalculable influence on succeeding generations of writers of horror fiction"  Stephen King called Lovecraft "the twentieth century's greatest practitioner of the classic horror tale."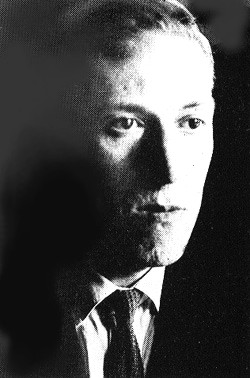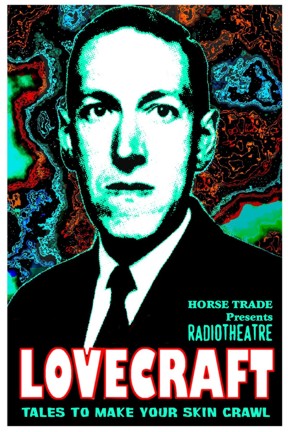 An UNPRECEDENTED EVENT IN

WORLD THEATRE!

FORTY TERRIFYING MIND-BENDING TALES BY THE GRAND MASTER OF HORROR...

As Only RADIOTHEATRE

Can Present Them

Throughout 2011-2013

COMPLETE WITH AWARD-WINNING SOUND DESIGN & ORIGINAL ORCHESTRAL SCORES!

THE 1st H.P. LOVECRAFT FESTIVAL

MAR 17-Apr 3 2011   Kraine Theater NYC

THE DUNWICH HORROR -  A seminal work in

Lovecraft's famous Cthulu Mythos.  A

backwoods family worships the ancient ones who will return one day to destroy mankind.

PICKMAN'S MODEL - Just how does the artist Pickman get such remarkable detail in his horrifying paintings?

THE MUSIC OF ERICH ZANN - a weird pianist plays music no one has ever heard before.

DAGON - a man is shipwrecked on a strange island where he discovers a lost world.

FROM BEYOND - a mad scientist goes where no man has gone before.

THE BEAST IN THE CAVE - a cave explorer

discovers a horror beyond description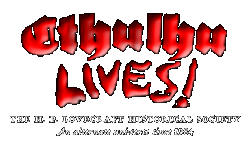 THE H.P.

  LOVECRAFT

ARCHIVES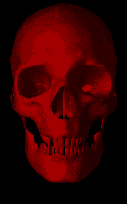 THE COMPLETE

TEXTS OF H.P.

LOVECRAFT


LOVECRAFT, HORROR

SCI FI RADIO BROADCAST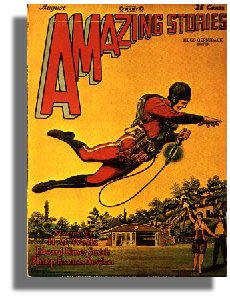 His grandfather's death in 1904 greatly affected Lovecraft's life. Mismanagement of his grandfather's estate left his family in such a poor financial situation they were forced to move. Lovecraft was so deeply affected by the loss of his home and birthplace that he contemplated suicide for a time. In 1908, prior to his high school graduation, he himself claimed to have suffered what he later described as a "nervous breakdown", and consequently never received his high school diploma (although he maintained for most of his life that he did graduate). This failure to complete his education (he wished to study at Brown University) was a source of disappointment and shame even late into his life. In 1919, after suffering from hysteria and depression for a long period of time, Lovecraft's mother was committed to Butler Hospital just like her husband before her. Nevertheless, she wrote frequent letters to Lovecraft, and they remained very close until her death on May 21, 1921, the result of complications from gall bladder surgery. Lovecraft was devastated by the loss.

Lovecraft wrote some fiction as a youth but, from 1908 until 1913, his output was primarily poetry. During that time, he lived a hermit's existence, having almost no contact with anyone but his mother. This changed when he wrote a letter to The Argosy, a pulp magazine, complaining about the insipidness of the love stories of one of the publication's popular writers. The ensuing debate in the magazine's letters column caught the eye of Edward F. Daas, President of the United Amateur Press Association (UAPA), who invited Lovecraft to join them in 1914. This reinvigorated Lovecraft and incited him to contribute many poems and essays. In 1917, at the prodding of correspondents, he returned to fiction with more polished stories, such as "The Tomb" and "Dagon". The latter was his first professionally-published work, appearing in The Vagrant (November, 1919) and Weird Tales in 1923. Around that time, he began to build up a huge network of correspondents, including Robert Bloch ("Psycho"), Clark Ashton Smith  and Robert E. Howard ("Conan the Barbarian").

A few weeks after his mother's death, Lovecraft attended an amateur journalist convention in Boston where he met Sonia Greene. They married in 1924, and the couple moved to Brooklyn where Greene owned a hat shop. Initially, Lovecraft was enthralled by New York, but soon the couple was facing financial difficulties. Greene lost her hat shop and suffered poor health. Lovecraft could not find work to support them both, so his wife moved to Cleveland for employment. Lovecraft lived by himself in the Red Hook neighborhood of Brooklyn and came to dislike New York life intensely, a sentiment he sublimated in the short story "The Horror At Red Hook." A few years later, Lovecraft and his wife, still living separately, agreed to an amicable divorce, which was never fully completed. He returned to Providence to live with his aunts during their remaining years.

Back in Providence, Lovecraft lived in a "spacious brown Victorian wooden house" at 10 Barnes Street until 1933. The same address is given as the home of Dr. Willett in Lovecraft's only novel, "The Case of Charles Dexter Ward". The period after his return to Providence — the last decade of his life — was Lovecraft's most prolific. In that time he produced almost all of his best-known short stories ("The Call of Cthulhu", "The Thing on the Doorstep", "The Dreams in the Witch-House", "The Haunter in the Dark", "The Dunwich Horror", "The Rats in the Walls", "The Shadow over Innsmouth", "The Shunned House") for the leading pulp publications of the day (primarily Weird Tals), as well as longer efforts, such as the stream of consciousness novella, "At The Mountains of Madness". He frequently revised work for other authors and did a large amount of ghost writing, including "Under The Pyramids" (also known as "Imprisoned With the Pharaohs") for Harry Houdini. Despite his best writing efforts, however, he grew ever poorer. He was forced to move to smaller and meaner lodgings with his surviving aunt. He was also deeply affected by Robert E. Howard's suicide. In 1936, Lovecraft was diagnosed with cancer of the intestine, and he also suffered from malnutrition. He lived in constant pain until his death on March 15, 1937, in Providence.

Lovecraft was listed along with his parents on the Phillips family monument. That was not enough for his fans, so in 1977 a group of them raised the money to buy him a headstone of his own in Swan Point cemetery, on which they had inscribed Lovecraft's name, the dates of his birth and death, and the phrase "I AM PROVIDENCE", a line from one of his personal letters. Though only a modest success in his lifetime, interest in his work has progressively escalated with every passing decade. Iconic American authors Stephen King and Joyce Carole Oates list him as a principal influence on their work and British writers Clive Barker, Neil Gaiman and Alan Moore also consider him to have had a profound affect on their artistic visions. Film-makers John Carpenter, Guillermo del Toro, Stuart Gordon and Daniel Gildark have all tried their hand at interpreting his work to film and Jorge Luis Borges wrote "There Are More Things" in memory of Lovecraft. Heavy metal bands Black Sabbath and Metallica both have numerous songs referencing Lovecraft's work, as does the best-selling game "World of Warcraft". The Necronomicon, Lovecraft's invented spellbook of the damned, has become so iconic in pop-culture that claims to its actual existence continue to this day, ironically make the most famous book Lovecraft ever wrote, one that has yet to be written.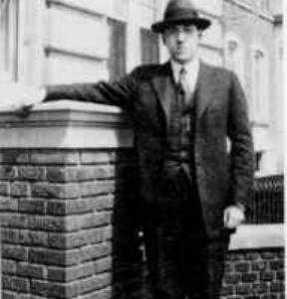 H. P. Lovecraft was born on August 20, 1890, in Providence, Rhode Island. He was the only child of Winfield Scott Lovecraft, a  traveling salesman, and Sarah Susan Phillips Lovecraft, who was a direct descendant of the Massachusetts Bay Colony in 1630. In 1893, when Lovecraft was three, his father became acutely psychotic in a Chicago hotel room while on a business trip and was taken back to Providence and placed in Butler Hospital, where he remained until his death in 1898.  After his father's hospitalization, Lovecraft was raised by his mother, his two aunts, and his maternal grandfather. All five resided together in the family home. Lovecraft was a prodigy, reciting poetry at the age of three and writing complete poems by six. His grandfather encouraged his reading while his mother, on the other hand, worried that these stories would lead to conditions similar to her husband's. Lovecraft was frequently ill as a child and due to his sickly condition and his undisciplined, argumentative nature, he barely attended school until he was eight years old, and then was withdrawn after a year. He read voraciously during this period and became especially enamored of chemistry and astronomy. He produced several hectographed publications with a limited circulation beginning in 1899 with The Scientific Gazette. Four years later, he returned to public school at Hope High School.

WHO WAS H.P. LOVECRAFT? 

by Stuart Bounsel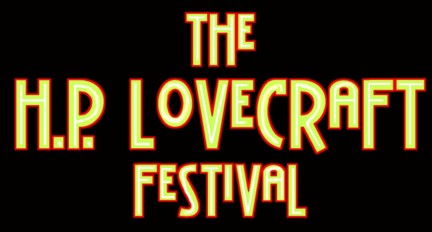 THE 2nd H.P.LOVECRAFT FESTIVAL

OPENS JULY 7-31  Under St.Marks Theater NYC

HERBERT WEST, REANIMATOR- a mad scientist

attempts to resurrect the dead at any cost

THE CALL OF CTHULHU - a detective and professor investigate the cult of Cthulhu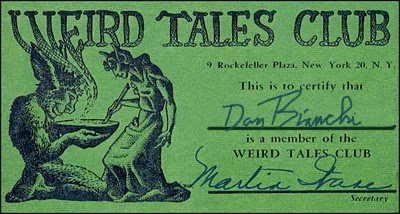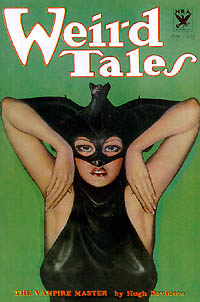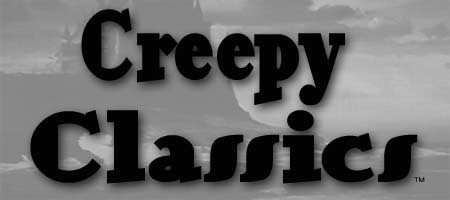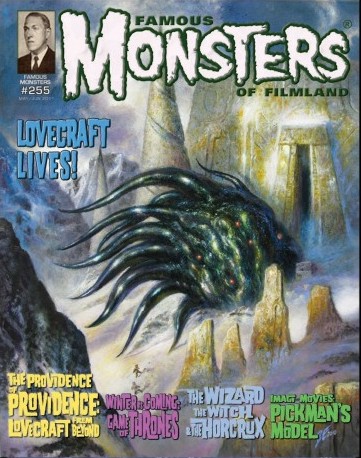 FAMOUS

MONSTERS

MAG

LOVECRAFT

LIVES

4/11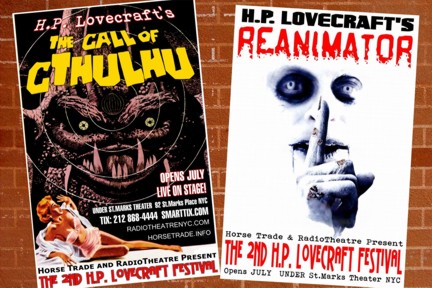 THE 3rd  H.P.LOVECRAFT FESTIVAL

APR 19 - MAY 20  2012  Kraine Theater NYC

THE SHADOW OVER INNSMOUTH -- A student

discovers the horrible secret of Innsmouth

THE MOON BOG- When a man decides to drain a swamp, people begin to disappear

THE LURKING FEAR - Three men spend the night in the haunted Martense family mansion

THE STATEMENT OF RANDOLPH CARTER - A

scientist ventures underground beneath a cemetery

THE HORROR AT MARTIN'S BEACH - A creature from the sea terrorizes beachgoers

THE EVIL CLERGYMAN - A man is warned not to touch the silver box left by the former tenant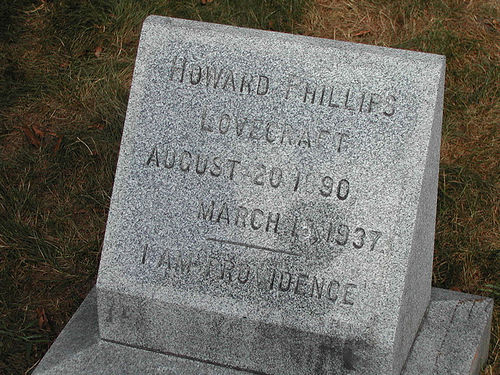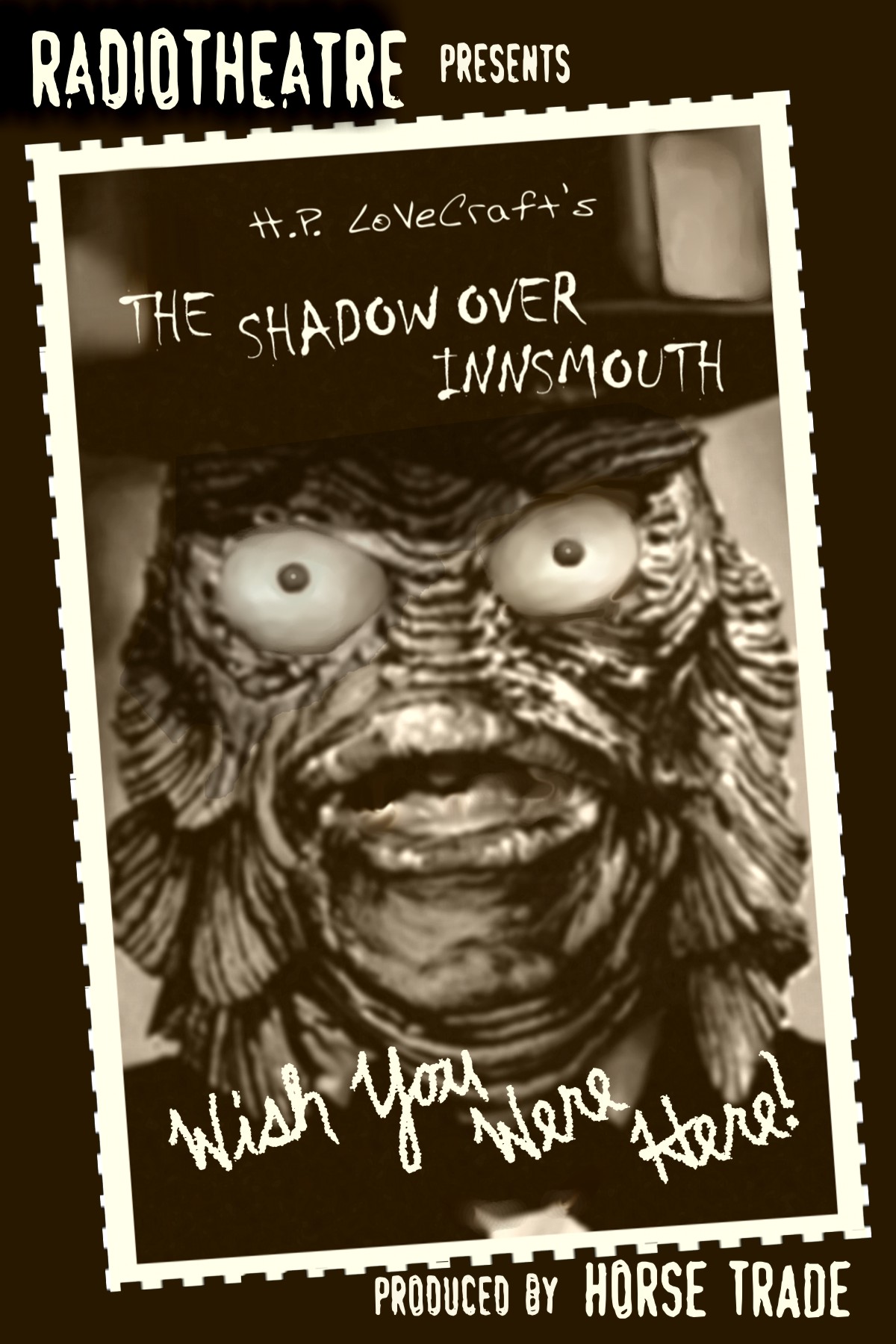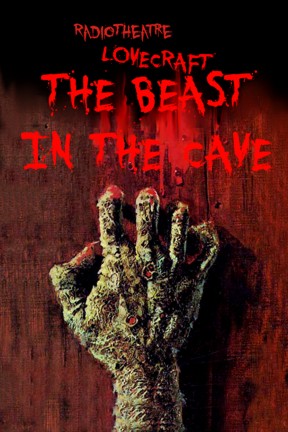 "A CULT HIT IN THE EAST VILLAGE!" NY TIMES

"It's doubtful any show could capture  H.P. Lovecraft's  spooky enigmatic quality better than Radiotheatre, which mounts six Lovecraft stories  performed by four actors speaking into microphones in solitary spotlights. Creepy music, a few light cues and a burst of smoke are the only design.  This chilling production concentrates attention on the voice, the words and, most importantly, the darkness. Like so many Lovecraft tales, this story takes place in blackness."      JASON ZINOMAN, INTELLIGENT LIFE MAGAZINE

"Radiotheatre offers hot aural action using all the tricks up writer/director Dan Bianchi's classic radio sleeve!" 

                                                   TIMEOUT NY

"A ghastly good time!"

                           MANHATTAN USERS GUIDE

"An Indie Theatre Masterstroke!" 

                                                    NY THEATRE

"The actors do an outstanding job...the music and sound effects are terrific!  If you are a fan of H.P.Lovecraft or radio dramas

I recommend you attend this festival!"

                                                    STAGE BUZZ

"Amid today's plethora of theatrical bells, whistles and videos, its reassuring to know that vocal agility and a smart yarn can still conjure up attention grabbing theater or, at least, Radiotheatre!"                                                    PLATINUM BROADWAY

"Reminds audiences why they were once afraid of the dark.  Tremendous performances..." 

                          WASHINGTON SQUARE NEWS

"Bianchi does a fine job of spooking up the place! Fans will find much to love in these well-constructed adaptations. For everyone else, if you're not into Lovecraft, then this is a perfect time to remedy that." NYTHEATRE.COM

"Well conceived and executed, the latest installment of Lovecraft Fest is highly entertaining genre theater that is respectful but not slavish to its source material. Recommended beyond Lovecraft enthusiasts to general audiences,"                          J.B.SPINS

"To be frightened by horror is one thing, but, to be moved by it is a much greater thing and that

is what this production of The H.P.Lovecraft Festival has accomplished..."

                                    THE HAPPIEST MEDIUM

"Radiotheatre has gained something of a reputation for mounting productions of classic horror stories that rely exclusively on sound and voice to get audiences to imagine crazy, gory scenes that can never be realistically staged."       DON SHEWEY, CULTURE VULTURE

"RadioTheatre sticks to what makes horror really great...the audience's imagination... achieving the best translation of Lovecraft to another medium that I've seen!"                                                                      THEATER IS EASY

"I felt very much as if I was being told a campfire tale...Fans of Lovecraft and Horror in general should not miss this night of chilling storytelling!"                     NY THEATRE REVIEW

THE 4th H.P.LOVECRAFT FESTIVAL

May 31-July 29  2012  Kraine Theater NYC

HERBERT WEST, REANIMATOR- a mad scientist

attempts to resurrect the dead at any cost

THE CALL OF CTHULHU - a detective and professor investigate the cult of Cthulhu

THE MUSIC OF ERICH ZANN - a weird pianist plays music no one has ever heard before.

FROM BEYOND - a mad scientist goes where no man has gone before.

COOL AIR - A Dr. stays alive in his

refrigerated NYC apartment

THE BEAST IN THE MOONLIGHT - A terrifying nightmare haunts H.P.Lovecraft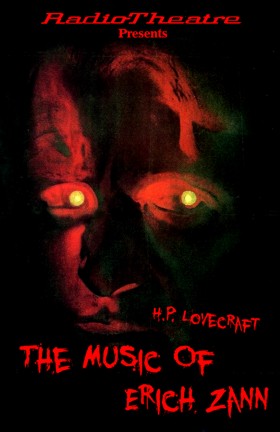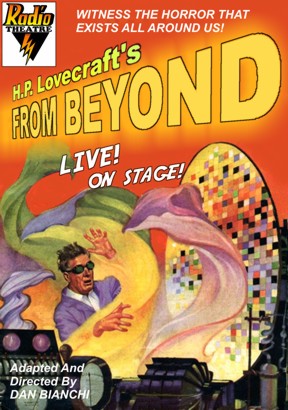 REVIEWS FOR

THE H.P.LOVECRAFT FESTIVAL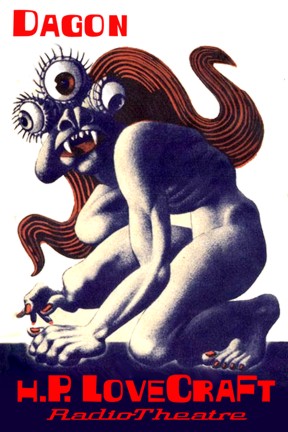 THE 5th H.P. LOVECRAFT FESTIVAL

April - May  2013   UNDER St. Marks  NYC

HERBERT WEST, REANIMATOR

THE STATEMENT OF RANDOLPH CARTER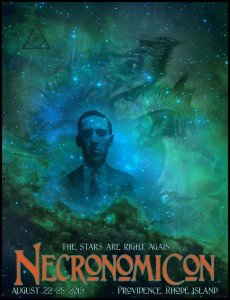 AUG 22-25  Providence, RI